Heaven in a bottle – this is Lotion YonKa and I love it!
I said that I'd review all the Yonka products one by one and first up it's my favourite product of all –  the one I wouldn't be without, maybe ever again.  This is Lotion YonKa for dry skin (PS) (it also comes as Lotion PNG for oilier types).  This is the most amazing smelling product and it has so many uses.  It's a wonderful hydrating spritz to use at any time both on naked or made up skin.  It's an extra layer of hydration to compliment your moisturiser or your mask and it's also a wonderful tool to cool skin in hot climates or any sticky situation like flying for instance. It's also so pure and mild that its perfectly safe to use on the little people too – hot and bothered children are not natures sweethearts!
Its divine scent is made from the five essential oils that YonKa calls the 'quintessence'.  They are lavender, geranium, rosemary, cypress and thyme which are balancing revitalising and purifying. The other key ingredient is plant glycerin which is hydrating.  The large size comes in a beautiful glass bottle which will undoubtedly take pride of place on your bathroom shelf or dresser and the travel size is in a drop proof canister perfect for on the go.  As well as my handbag I always keep a little one in my gym bag too as it really helps blitz that post work out tomato face!
There is also something wonderful about the mechanics of how you use this – it's a really fine mist and it's not a million miles off the lovely misting used in all the YonKa facials in salons so it does feel like a little touch of luxury in your own hands.  If anyone is just starting out as a YonKa fan then I would absolutely say that this should be your first purchase.  It's heavenly and I don't know anyone else who uses it that would disagree with that.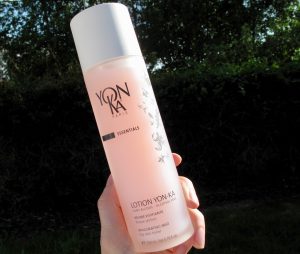 I love my little rituals in the morning and at night when I get to cleanse and treat and moisturise my face.  This particular product plays a huge role in making it a gorgeous experience every single day.  Even if the whole process is only 2 or 3 minutes some mornings it's still a tiny bit of time solely for me that gets my day off to a great start.  I'm all about the self care  – whenever you can find the time!
The large size retails at €32.00 and the handy travel size is €17.50.  Available from all YonKa salons around the country or from YonKa.ie.