Since becoming a YonKa ambassador exactly one year ago I have been visiting some amazing spas and salons for treatments and I thought it would be a good time to share some of those amazing places with you…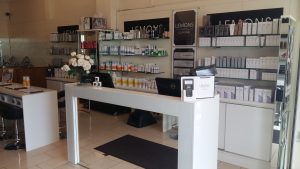 First up it was Lemons.  As Lemons in Clontarf is just down the road from me, this is where I was sent to have my skin assessed and studied for the YonKa programme I was going to follow.  Shauna took me through the process by first looking at my skin with one of those amazing machines that show up every bit of badness underneath the top layers of skin, be it pigmentation, scarring or whatever your own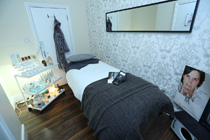 concerns might be.  This was followed by an amazing facial that had me glowing afterwards.  It's a lovely looking salon, really bright and airy and the treatment rooms are cosy and luxurious.  I've had a course of Excellence Code facials here and I can't recommend them enough – they definitely take a few years away!  Annette the boss lady is loved by her staff and their genuine happiness in their job is obvious as there's such a lovely atmosphere.  Lemons is a gorgeous place with the sweetest therapists.  If you're ever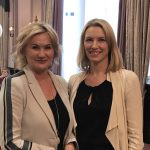 near Dublin 3 at all you have to check it out!
…Annette and I at the Time Resist Launch in Clontarf Castle back in May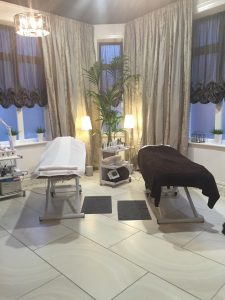 Next on my list was 5th Avenue.  I remember walking past this salon on Clarendon street shortly after it opened and just thinking wow!  As you look in the door there's the most stunning reception area and it gives you such an impression of luxury and opulence (great start!).  The treatment room I had was surprisingly huge for a city centre location where space is always at a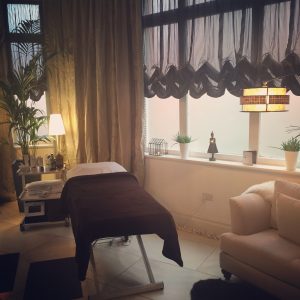 premium.  It was in fact a double treatment room but it was just me on this occasion.  I had the Optimizer facial here and it was fantastic.  At one point a treatment mask covers your whole face which can include eyelids and lips (but you don't have to cover them if you're clostrophobic) and it was just too relaxing for words.  Great results from this and I loved how my skin looked in the days afterwards.  I highly recommend this city centre hideaway!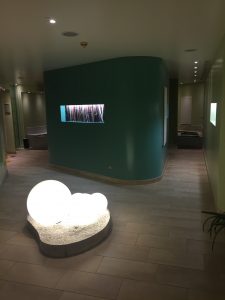 Farnham Estate…Much further afield this time as I headed off to Cavan for my next treatment.  This time I decided to plump for one of the incredible YonKa full body massages.  Each therapist will vary the level of pressure to suit your individual needs – I always go for deep tissue massage as my muscles love to be pummelled!!  My therapist at Farnham was apparently one of the best they have and in fairness it was incredible.  I drove home that night about as relaxed as I have ever driven in my life.  Maybe all long car journeys should start with a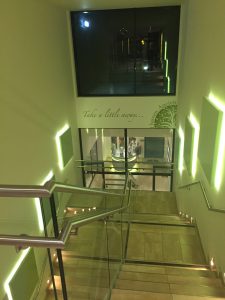 massage!!!  Farnham Estate for anyone who has yet to make the journey is a bit of a mind blower.  My jaw dropped as I drove through the gates in to the beautiful grounds and when I got to the hotel itself well the best was yet to come.  I took a little tour myself and quite honestly it's a fabulous destination.  The spa is huge with loads of treatment rooms, an incredible relaxation area and to top it off one of the most fabulous swimming pools I've ever seen in an Irish hotel boasting a half indoor, half outdoor layout.  An absolute treat in the most stunning surroundings – make this visit a stay over if you can.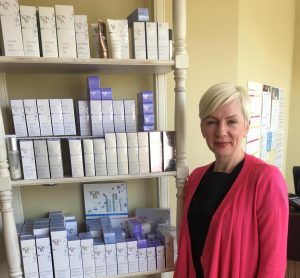 B for Beauty… Off to Glenageary this time and I paid a visit to B for Beauty.  Anne decided to do the brand new Time Resist facial for me.  This, like all YonKa facials, is an incredibly relaxing experience but this one does a little bit more than most.  They say the peel involved is akin to having micro needling.  The results are immediate but as Anne told me you should in fact see positive changes in your skin for days afterwards because the treatment goes so deep.  B for Beauty is tucked away in suburban Glenageary, far away from busy streets so no one will see you leaving the salon 'post treatment' looking a little less glamorous than usual.  It's a great asset as most of us would rather stay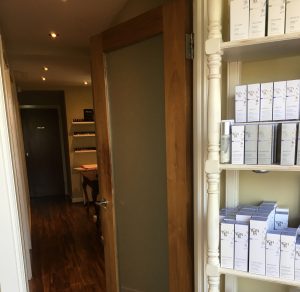 under the radar after having our facial issues seen to!  It's a small salon with only a few treatment rooms but Anne has a background of working with YonKa some years ago and has a great connection with the company – her enthusiasm for the products is contagious and she gave me some great information and tips as she was treating me.  Just like your hairdresser your relationship with your therapist is a very intimate one and when you find one that makes you feel like you're in safe hands make sure you keep her!  This place is a proper hidden gem!